Home > Lawsuits > Copyright Trolls >

A group of movie companies is demanding nearly $100,000 in statutory piracy damages from US army veteran Mical Mesot. While the evidence is often flimsy in piracy cases, the rightsholders managed to get logs from the popular pirate site YTS to back up their claim. That evidence is corroborated by the operator of YTS, under penalty of perjury.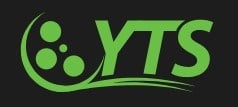 Lawsuits against pirating Internet subscribers are far from new. In the US, they first appeared more than a decade ago.
Over the years, the evidence in these lawsuits was regularly contested. In some cases this led to success, with courts concluding that an IP-address alone is not enough. After all, an IP-address doesn't identify a person.
Most prominent was a Ninth Circuit Court of Appeals ruling in the Cobbler Nevada v. Gonzales case, where the court ruled the copyright holders needed "something more" than just an IP-address. This ruling has been cited in dozens of cases since.
In response, some rightsholders have become more creative, fishing for piracy clues on social media accounts of alleged pirates. That already goes quite far. However, in a recent case in Hawaii, a group of movie companies took things up a notch after obtaining evidence directly from YTS, the most-visited torrent site.
Lawsuit Against YTS User and Army Veteran
The movie companies, including the makers of films such as "Hellboy" and "Rambo: Last Blood," filed a lawsuit against US Army veteran Mical Mesot. As we revealed earlier, their claim was backed up with evidence that appeared to come directly from the database of YTS.mx.
We have spotted similar lawsuits in the past and speculated that YTS could have handed over this information. YTS's operator previously signed several settlement agreements with the same movie companies, so both parties were in contact.
At the same time, it would be unprecedented for an operational torrent site to share user information with copyright holders.
Our initial suspicions couldn't be backed up and neither YTS nor the movie companies' lawyer was willing to share further details. However, a recent court filing confirms what happened.
A few days ago, the movie companies submitted a motion for a default judgment against the army veteran, who failed to respond in court. This motion again mentions the evidence from YTS's database.
"Defendant registered for an account with the YTS website using a specific email address '[email protected]' and logged into the YTS website using this email address from IP address 72.130.106.50 to download torrent files of Plaintiffs' Works," the motion reads.
Data Verified by YTS Operator
In addition, the rightsholders' lawyer adds that this data was 'verified' by the same YTS operator who previously settled copyright infringement lawsuits with movie companies.
"The data showing this activity was verified by Senthil Segaran – the operator of the YTS website," he writes.
The lawyer references an exhibit where the YTS operator, who's also the director of the UK company Techmodo Limited, declares under penalty of perjury that the database evidence is "the original or a duplicate of an original record."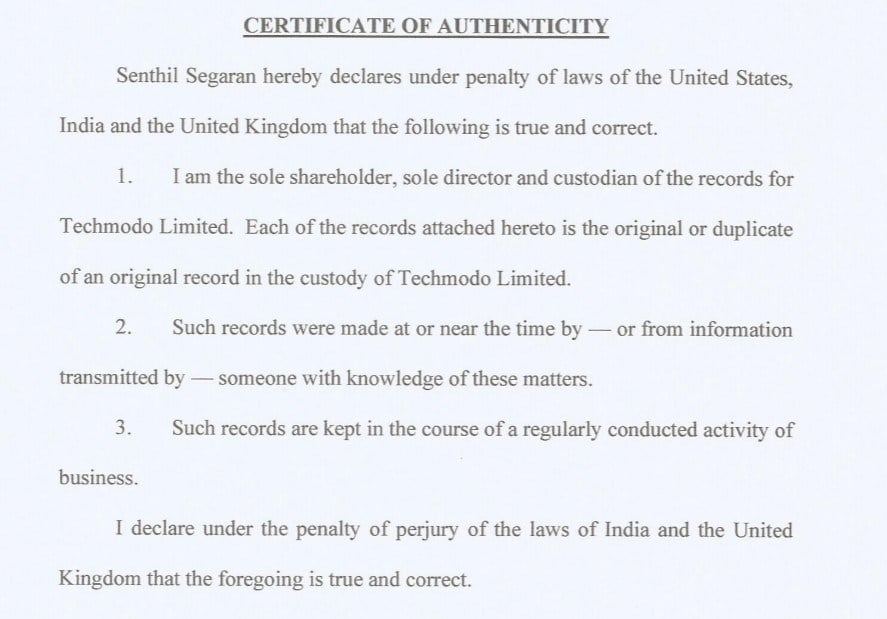 The database information on its own doesn't prove much. However, tied with other information, such as the IP-address that was tracked in the BitTorrent swarm and data gathered from Facebook, a pattern emerges. In any case, it's certainly "something more."
Movie Companies Demand $97,704.79
The movie companies inform the court that it is highly unlikely that a third party is responsible for the alleged copyright infringements. As such, they hold the army veteran liable and demand $97,704.79 in statutory damages.
This is a substantial amount, but according to the movie companies' lawyer, it's only a fraction of the number of downloads in the torrent swarm multiplied by the retail price of the films. That would be nearly $3 million.
"Thus, despite Defendant being liable for $2,995,916.28 for the infringements in the World and his, profits, Plaintiff Fallen is only requesting damages of $97,704.79, which is merely 15 percent of the actual damages ($651,365.26) caused by his infringements in the United States and less than 3.3 percent of the actual damages Worldwide," the motion reads.
Privacy Concerns
What stands out most, in this case, is the involvement of YTS' operator in a lawsuit against a user of the site. We don't know how much data YTS has shared but it's something users of the site must now keep in mind.
YTS previously informed us that users have the option to use fake email addresses and can also prevent their download histories from being tracked in the future by changing a setting. However, for army veteran Mical Mesot, that advice comes too late.
The odds appear to be stacked against the defendant in this case but it's still up to the court to decide if statutory damages are justified, and if so, the suggested amount is appropriate.
—
A copy of the movie companies' motion for a default judgment against Mical Mesot is available here (pdf)

Many thanks to TorrentFreak for the breaking news.

Source link