US Piracy Blocking Lawsuit Enters New Phase – Part Public, Part Hidden

This April, a coalition of entertainment companies convinced a judge to sign a pirate site blocking injunction that affected every ISP in the United States. This document was later found to be unenforceable but it was public access to court records that first pushed it into the public eye. As the case enters a new phase to block more domains, a level of secrecy had been requested by the plaintiffs.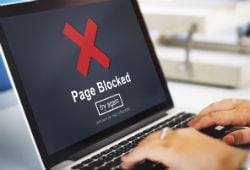 After winning three lawsuits against three pirate streaming sites, earlier this year a coalition of Israel-based media companies obtained an injunction at a New York court.
Every single ISP in the United States was required to block three sites, now and forever, on any domain in existence, now and in the future. Any and all web-based businesses were forbidden from doing any business with the defendants in perpetuity, despite their identities being completely unknown.
Thanks to public access to court records, it was possible to quickly show what can happen when private companies are handed extraordinary powers. Cloudflare, Google, and others later protested the injunction – not its overall goals as such, but its nuclear approach to enforcement.

The rest of this article can be read on TorrentFreak.com

Source link