Home > Anti-Piracy > Takedowns and Seizures >

West Midlands Police and the Federation Against Copyright Theft say they have dismantled a major illegal streaming operation in the UK. Two men and a woman have been arrested on suspicion of copyright infringement, fraud and conspiracy to commit fraud. Hundreds of thousands of customers are reportedly being greeted by a police message instead of their expected TV content.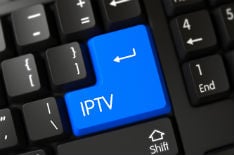 With pirate IPTV services providing access to thousands of TV channels at a cheap price, the Federation Against Copyright Theft is continuing its quest to disrupt piracy in the UK.
FACT acts on behalf of broadcasting partners including Sky and for years has been cracking down on pirate suppliers of live sporting content. Today the anti-piracy company has announced what appears to be a particularly significant operation carried out in partnership with police in the UK.
'Top UK Content Provider' Targeted By Police Raids
In common with many operations of this type, neither police nor FACT are providing the name of the IPTV provider/supplier targeted. However, the details released thus far indicate a player of some importance.
According to a joint statement, West Midlands Police targeted what is being described as a "top UK content provider" that facilitated access to more than 100 separate pirate TV services. The operation was months in the planning and resulted in the arrest of three people.
"Two men aged 53 and 35 and a 40-year-old woman were arrested on suspicion of copyright infringement, fraud and conspiracy to commit fraud. Our joint investigation is ongoing," says Detective Sergeant Allan McDonald from the West Midlands Police Economic Crime Unit.
"Hundreds of Thousands of Customers"
Police say they were able to dismantle the illegal streaming network which they believe served hundreds of thousands of customers.
"The streaming services in question illegally made available a large catalog of live TV and video content from around the world, including sports, for use on smart TVs, smartphones, tablets and illicit streaming devices," the statement reads.
"The operation, which was months in the planning, shut down the network, disabled the illegal streams and delivered an on-screen message to those who received the streams warning them that their access to the content was unlawful."
At the time of writing, TF has not received news from other sources concerning a shutdown or the displaying of any messages on devices configured for this service. We have asked FACT if it can supply a screenshot of the police warning message but if any readers have a copy, we'd certainly appreciate a tip.
In the meantime, it's worth going over the joint statement in a little more detail to consider what this is about.
Lack of Clarity on the Type of Service Shutdown
It is not uncommon for so-called IPTV 'resellers' to be targeted by the authorities since they often sell access to one or more pirate IPTV providers. In this case, however, police say the targeted operation "provided illegal access to content to more than 100 separate pirate TV services."
That is a very high number of services for a reseller to be selling subscriptions to, almost unmanageable in fact. That leaves us with the possibility that this service may have aggregated content from 100 higher-level pirate TV providers and sold access to that package. That would perhaps make more sense since police say they were able to display a warning message on customer devices.
What the police and FACT statement doesn't claim is that 100 pirate providers have been shut down, merely that the service in question utilized 100 pirate services in its offering. The fate of those 100 services isn't clear but we have asked FACT for comment and will update this article accordingly.
In the meantime, Kieron Sharp, CEO of FACT offers the following comment:
"We're pleased to support West Midlands Police in their work to dismantle such a major network. This should be a serious warning to anyone motivated by the financial gains from engaging with piracy – it is a crime which will be taken seriously by Police."

Many thanks to TorrentFreak for the breaking news.

Source link