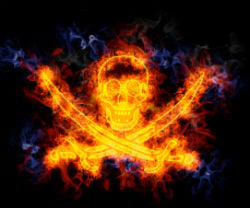 For as long as pirate sites and services have been around, entertainment industry groups have poured significant resources into having them closed down.
When Napster went down in flames 20 years ago, some people thought that was mission accomplished. In 2005, when the MGM vs Grokster case went all the way to the Supreme Court and went in MGM's favor, many people believed that file-sharing had received its fatal blow.
Today, 15 years later, the blows are still being delivered but the wars continue. In many respects, piracy is stronger than ever. In others, notably music, the industry is finally meeting piracy head-on with value-for-money services that in terms of quality, presentation, and ease of use, pirates cannot easily compete with.
As we take a look today at the Top 19 most significant piracy shutdowns of 2019, the emphasis is clear. The overwhelming majority of pirate site and service closures during the past 12 months have been at the hands of entertainment companies involved in the supply and distribution of movies, TV shows, and sporting events.
January – Reddit's /r/soccerstreams bites the dust
Reddit's /r/soccerstreams was once a discussion platform catering to around 420,000 subscribers and many more casual visitors. Among other things, the sub-Reddit allowed users to post links to live games, making it easy for soccer/football fans to watch matches for free.
As a result, the forum (or more accurately, Reddit itself) was inundated with DMCA complaints from rightsholders, demanding that links be removed. Reddit's admins ultimately lost patience, informing the mods of /r/soccerstreams to take decisive action or face being banned. In the end, the sub fell on its own sword and shut itself down.
May – One Step TV
After what appeared to be a 2018 launch, pirate IPTV service OneStepTV grew to offer around 600 TV channels and 20,000 pieces of VOD content for $25 per month or less. While the service attracted plenty of initially happy customers, things started to go sour in April 2019.
After experiencing difficulty processing payments, One Step TV ultimately stopped doing business due to threats by the legal team of the Alliance of Creativity and Entertainment.
May – Vader Streams
As far as IPTV 'brands' go, Vaders was one of the most recognizable in the space. With a large customer base and reportedly reliable service, Vaders disappeared into thin air early May, leaving little but rumors and educated guesses in its wake.
In August, however, it was revealed that the Alliance for Creativity took the platform down, leaving Vaders' operators with an alleged $10 million settlement bill.
June – Convert2MP3
Despite the huge popularity of legal music streaming services such as Spotify, so-called YouTube-ripping platforms remain a thorn in the side of the world's major recording labels. By facilitating the downloading of tracks to users' machines, both labels and YouTube are said to lose revenue due to these services.
With dozens of monthly visitors, Convert2MP3 was one of the biggest. As a result it attracted the negative attentions of music groups IFPI and BVMI, which sued the platform in Germany. A court handed down a preliminary injunction against Convert2MP3 but then the ripping service settled the case by shutting down, handing over an unspecified amount in compensation, and surrendering its domain.
June – IPTV Bulgaria
In common with similar operations against other illicit IPTV providers in Eastern Europe, a June operation in Bulgaria was based in criminal law rather than civil lawsuits.
Supported by Europol's Intellectual Property Crime Coordinated Coalition (IPC3) and the Audiovisual Anti-Piracy Alliance (AAPA), the raids reportedly took down a pirate IPTV service with an estimated 700,000 worldwide subscribers. It was never named and no follow-up investigation has yet been made public.
July / August – eBook.bike
Legal actions against sites dedicated to eBooks are relatively rare. Those that see the parties duel it out in public beforehand are almost non-existent. For this reason alone, the lawsuit filed by author John Van Stry against former Pirate Party Canada leader Travis McCrea is easily one of the most unusual cases of the year.
A brief summary of the case is that someone uploaded Van Stry's books to McCrea's eBook download platform eBook.bike. Van Stry accused McCrea of not doing enough to control piracy on his platform, McCrea asked to be sued and Van Stry complied.
For reasons unknown, in July or August eBook.bike shut down, seemingly voluntarily. The case, documented in detail here on TF, is not only still ongoing but also one of the most unorthodox lawsuits we've ever covered. How it will end is up for debate but if the aim was to shut down eBook.bike, victory was achieved months ago.
September and ongoing – Manga Rock
Given the focus on traditionally famous large sites such as The Pirate Bay or RARBG, Mango Rock may have seemed like an insignificant player, but nothing could be further from the truth. According to data from MUSO, the so-called 'scanlation' site was even more popular than The Pirate Bay.
The demise of the platform is unusual in several respects, not least that the operators of the platform announced that they'd come to the realization that piracy is damaging. To remedy that they are now working on a legal platform as Manga Rock, which is still operational, is phased out.
September – Xtream Codes and other IPTV players
The huge police operation that spread across Italy, the Netherlands, France, and Bulgaria in September sent shockwaves through the IPTV community. More than two dozen people were arrested and at least 180 servers were seized.
While it wasn't the only target, Xtream Codes, the software/system utilized by a reported 5,000 IPTV services and their 50 million customers, was wiped out leaving swathes of the IPTV scene in chaos. Little has been heard of the operation since but it does seem that many providers have found alternative solutions and are now back in business.
September – Coto Movies
While browser-based sites and services remain popular with pirates, apps for both Android and iOS are a convenient option for those seeking a straightforward consumption experience. This hasn't gone unnoticed by entertainment companies who have targeted several over the years in an attempt to stem the tide.
Early September, third-party iOS app store TweakBox removed several movie piracy apps in response to legal pressure. Following that news, the people behind the CotoMovies app decided to close down. It later transpired that the makers of the films Hellboy and Angel Has Fallen forced the move.
The operator of CotoMovies issued an apology but then poured fuel on the fire by stating he would be handing over user data so that the movie companies could "enforce their valuable intellectual property."
October – Share-Online.biz
As Germany's largest file-hosting site serving between six and ten million users, Share-Online.biz had a target on its back. In 2017, anti-piracy group GVU filed a criminal complaint against the platform. Two years later, the platform was shut down following police raids in Germany, France, and the Netherlands.
Three suspects in their forties and fifties were reportedly placed under investigation.
October – Pirate CDNs
Founded in 2013, Moonwalk acted as a back-end for pirate streaming sites. Back in February, TF was informed that it was offering more than 33,000 movies and TV shows to site operators who embedded Moonwalk content and advertising into their own sites.
In Russia, Moonwalk was said to have serviced around 80% of pirate streaming platforms but in October it was all over. BREIN, the MPA and Alliance for Creativity and Entertainment teamed up, leaving Moonwalk to announce that it would "NEVER be up again."
Later that month the Moonwalk closure proved infectious, with several other 'pirate' CDNs also shutting down.
October – RapidVideo
RapidVideo was one of the most popular file-hosting sites around but like many of its competitors, it had plenty of entertainment industry rivals. Under pressure from the MPA and ACE while facing a lawsuit in Germany filed by Warner Bros. and Netflix, RapidVideo threw in the towel, leaving millions of users behind.
October – Openload / Streamango / StreamCherry
Already known to millions of users generating around 65 million hits per month, Openload hit the mainstream headlines in 2018 when it was claimed to be generating more traffic than Hulu and HBO Go.
Previously branded a "notorious market" by the USTR, this year Openload decided to stop paying uploaders. The move was controversial but nothing compared to what followed.
At the end of October, following some kind of agreement with the Alliance for Creativity and Entertainment, Openload suddenly shut down, surrendered its domains, and paid "significant damages". At the same time, hosting sites Streamango, StreamCherry, and VeryStream also disappeared.
October – Boom Media
Boom Media was once one of the most recognizable brands in the IPTV reseller space, offering packages from providers including Nitro, Epic, Beast, MFG, and Vaders. In October, however, it found itself on the wrong end of a lawsuit filed by DISH Network.
Despite signs that it might put up a fight, Boom Media shut itself down but the lawsuit hasn't gone away.
November – Movie2free.com, Thailand's largest pirate site
With millions of views per day, Movie2Free.com was not only popular in Southeast Asia, it was also one of the largest pirate sites on the Internet, period. However, in early November all that changed when Thailand's Department of Special Investigation confirmed that the streaming portal had been shut down following a request from the Motion Picture Association.
November – Omniverse One World Television
In February 2019, several major Hollywood studios under the ACE banner filed a lawsuit against IPTV service Omniverse One World Television.
The company put up a spirited defense, claiming that it acted entirely legally and had appropriate licensing deals in place. In the end, however, ACE prevailed. Alongside a reported $50 million settlement agreement, Omniverse shut itself down.
November – Gears Reloaded
Finally, the strange story of YouTuber and entrepreneur Bill Omar Carrasquillo, otherwise known as OMI IN A HELLCAT. Carrasquillo is the self-confessed founder of IPTV service Gears Reloaded, a business that he claims to this day was fully legal.
In November he announced that he'd been raided by the FBI and IRS who "took everything" as part of a copyright infringement and tax evasion investigation.
Despite witnesses and Carrasquillo himself appearing on TV to discuss the raids, rumors persist that he made the whole thing up. Meanwhile, the authorities are refusing to confirm anything, one way or the other.

Many thanks to TorrentFreak for the breaking news.

Source link