Home > Anti-Piracy > Site Blocking >

Spanish football league La Liga has been successful in its application to have Italian ISPs block access to five pirate IPTV providers distributing its games online without permission. It's estimated that the services attracted more than a million visits per month in Italy alone. No court process was necessary.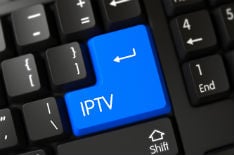 Top-tier football is massive business in Europe with a handful of major leagues in key regions grabbing the lion's share of the market.
For example, the Premier League has dominance in the UK while in Italy and Spain, Serie A and La Liga control the purse strings to their lucrative broadcasting rights. But while the clubs in all leagues are necessarily rivals in competition, all have something in common – the ongoing fight to prevent unlicensed streaming providers from broadcasting matches to the public.
Pirate IPTV is Seen As The Major Threat
Live sports broadcasts, including football, have been available on web-based streaming sites for years but the rise of subscription-based IPTV providers is now the major threat. Premier League, Serie A and La Liga are all involved in countermeasures, which include legal action (both civil and criminal) plus site-blocking in various countries.
This week it was revealed that Serie A had been successful in its legal action against Cloudflare, requiring the CDN company to block access to providers offering its games illegally in Italy. It now transpires that Spain's La Liga has booked progress of its own in Italy, albeit by a different mechanism.
La Liga's Request to Block Five Pirate IPTV Providers
For more than half a decade it's been possible to file an application with local telecoms watchdog AGCOM to have pirate sites and services added to a national ISP blacklist. This is somewhat controversial since, in contrast to other countries around Europe, there is no need for rightsholders to go to court.
Instead, AGCOM can review cases and grant injunctions without judicial overview, which it does on a regular basis. Indeed, according to comments made by anti-piracy group FAPAV this week, in 2020 it obtained permission to have 376 'illegal sites' blocked by ISPs via this route.
This process is also being utilized by La Liga which according to reports this week, has just been successful in an application to have five pirate IPTV providers blocked by Italian ISPs. The blocking request dates back to October 2020 and after a few months' wait, has now come into force.
In keeping with Italy's general position of not openly publicizing the IPTV services it targets, no names were detailed this week. However, according to comments from local anti-piracy group FAPAV, the five platforms are good for more than a million visits per month each, in Italy alone. This adds to the growing list of IPTV providers targeted in Italy by various legal means (1,2,3).
La Liga Pleased With The Decision to Block
"We are of the belief that audiovisual recordings of sporting events deserve solid protection through the application of intellectual property rules and, more precisely, copyright. La Liga has been working for more than five years to ensure that this protection is recognized," says Juan José Rotger, La Liga's Global Content Protection Manager.
"This new result in Italy is a reflection of the constancy and commitment in the network with the local authorities. Serie A has been doing an excellent job in the country for some time and has also helped us in this scenario. The success is that there is less piracy and that these rights continue to be recognized worldwide."
La Liga Blocking Action Elsewhere in Europe
La Liga is no stranger to blocking procedures. In a collaboration with Danish anti-piracy group Rights Alliance, the Spanish league obtained a first-of-its-kind ISP blocking injunction in Denmark in 2019.
It targeted nine pirate providers and required local ISP Telenor to restrict subscriber access to the platforms. However, under the Danish ISP Code of Conduct, other major ISPs in Denmark were also required to implement blocks against the sites listed in the complaint as part of a voluntary agreement.
In February 2020, a Spanish court gave dynamic blocking the green light in another football related case, authorizing the modification of injunctions to counter circumvention and evasion techniques.

Many thanks to TorrentFreak for the breaking news.

Source link