Cybercrime police from Bulgaria's Ministry of the Interior supported by officers from Europol have carried out an operation against five local cable operators accused of illegally intercepting broadcasts. The signals were being captured for distribution worldwide via IPTV applications. A large volume of equipment has been seized.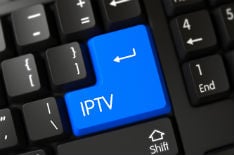 With pirate IPTV services continuing to gain traction around the world, moves to undermine their businesses are on the increase.
Many publicized enforcement actions feature IPTV providers and their resellers but news coming out of Bulgaria indicates that a player higher up the chain has been targeted by authorities.
Cybercrime officers from an anti-organized crime unit of the Ministry of the Interior have targeted five cable operators accused of intercepting and rebroadcasting foreign and local channels without permission from the rightsholders.
Supported by Europol's Intellectual Property Crime Coordinated Coalition (IPC3) and the Audiovisual Anti-Piracy Alliance (AAPA), the operation is said to have taken down a pirate IPTV service with an estimated 700,000 worldwide subscribers.
Authorities say that following the raids across eight cities in Bulgaria, all of the hardware used in the operation was seized, including the servers that were used to provide content to the IPTV provider's mobile applications.
According to the Ministry of the Interior, permission for the raids was obtained from several district courts. Eight teams were formed which carried out simultaneous actions on offices and other premises targeting technical equipment used by the cable operators.
Several TV companies are reported to have suffered damage from the alleged intellectual property offenses, including private national broadcasting channel bTV, local TV network Nova, and US cable and satellite network HBO.
The Ministry of the Interior reports that intellectual property crimes have caused damage to the country's reputation overseas. Indeed, the USTR called out Bulgaria in its latest Special 301 Report, noting that "online and broadcast piracy remains a challenging copyright enforcement issue" in the country.
A full investigation is underway in respect of intellectual property violations but the government says that alongside it will be looking for evidence of tax evasion.
Moving forward, regular checks will be carried out at all cable operators, with those suspected of illegal activity treated as a priority.

Many thanks to TorrentFreak for the breaking news.

Source link