Home > Anti-Piracy > DMCA >

An IT researcher who hacked the recently released Nintendo Game & Watch allowing it to play additional games is feeling the corporate presence of the Japanese gaming giant on YouTube. After publishing a hacking video on the platform, someone working for Nintendo issued a curious and relatively rare manual Content ID copyright claim to have it taken down.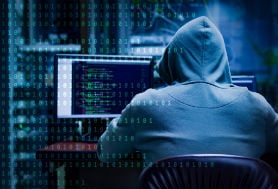 Using any amount of copyrighted content in a YouTube video can result in a claim by a copyright holder, even when fair use exceptions should be applicable.
This type of action is often taken through YouTube's Content ID system after being detected by an algorithm. However, there is another option available to rightsholders that requires action from real-life people which, perhaps counter-intuitively, can mean claims are sometimes more controversial.
Nintendo Game & Watch Hacker 'stacksmashing'
As previously reported by Gizmodo, last November and a day before its official release, Nintendo's Game & Watch console was hacked by IT researcher 'stacksmashing' in order to play new games.
Of course, this type of activity is always frowned upon by Nintendo. The Game & Watch released with Super Mario Bros. and the gaming giant would've preferred it to stay that way. But with Doom, Pokémon, The Legend of Zelda, Super Mario Bros. 3 and even Contra playable on the new machine, there's now more variety, whether Nintendo likes it or not.
Surprise: Nintendo Doesn't Like It
Nintendo can put pressure on hackers in all kinds of ways but an action taken against at least one of stacksmashing's videos on YouTube reveals the company isn't averse to playing some games of its own. As revealed by the hacker on Twitter, Nintendo has filed an interesting copyright complaint against one of his videos.
So this just happened. pic.twitter.com/A2friEyQKK

— stacksmashing (@ghidraninja) January 12, 2021
As the above shows, Nintendo says that the video infringes its copyrights relating to Game & Watch: Super Mario Bros. However, the important information relates to what supposedly infringing content stacksmashing used in his video and in what context. According to the hacker, not much at all and not for very long either.
The Claim From Nintendo
"It's a claim with time stamps – the beginning of the time stamp is a terminal window.. and then just the device being on and Mario running for a couple of seconds," he explains.
From the explanation and assuming that the terminal window didn't infringe any of Nintendo's rights, that leaves the few seconds of gameplay footage as a potential Nintendo irritant. While that could conceivably get caught up in an automatic Content ID claim, that wasn't the case here. Fairly unusually, an actual human being made a manual claim against stacksmashing's video, within Content ID.
"This was actually a manual match, so someone at the big N put in the time to do this," he notes on Twitter.
This was actually a manual match, so someone at the big N put in the time to do this… pic.twitter.com/2r0K3IlPxZ

— stacksmashing (@ghidraninja) January 12, 2021
So how exactly do manual Content ID claims work?
The Parameters As Per YouTube
"A manual claim is sent to you when a copyright owner identifies that their content has been used without their permission. Copyright owners use the manual claiming tool to claim your video, which sends you a manual claim," YouTube explains.
In a nutshell, Content ID's algorithms didn't flag the video as infringing but someone acting on Nintendo's behalf watched the video and determined that it did. They then took time out to tell YouTube that Nintendo's copyrights had been infringed so it should be taken down.
"The manual claiming tool is used by copyright owners who demonstrate advanced knowledge of our Content ID system. The tool gives copyright owners a way to manually claim videos not matched by the Content ID system. Manual claims must include accurate timestamps to show exactly where the claimed content is in your video," YouTube adds.
While stacksmashing hasn't revealed the exact timestamps, the progress bar on the screenshot shows that Nintendo claimed a very small part of the video. Furthermore, the requirement for an accurate set of stamps doesn't appear to have been strictly adhered to, if indeed the only problem was a few seconds of Super Mario Bros. gameplay footage.
Taking that to its logical conclusion, another question raises its head: Why are there so many other videos on YouTube showing Game & Watch gameplay that haven't received a copyright complaint?
Stacksmashing is Reportedly Editing, Filing Disputes
With Gizmodo reporting that stacksmashing has had two of his videos targeted in this way, the hacker is reportedly editing them in an effort to get them back on YouTube without further issues. On top, he's also filing disputes against Nintendo's claims of copyright infringement.
While having any kind of copyright claim against a video is an irritant, in this case a manual Content ID claim does not immediately mean copyright 'strikes' for stacksmashing. However, there is an option for a copyright holder to send an actual takedown notice (rather than a Content ID claim) and if this is deemed accurate, a damaging 'strike' can be applied to an account.
Since the hacker is reportedly prepared to trim out the contentious few seconds of video, his YouTube account will remain in good standing. On the other hand, if Nintendo is found to be "improperly claiming content that they don't own the rights to" this could result in "penalties including legal liability and partnership termination," as per YouTube.
This, of course, is highly unlikely.



Many thanks to TorrentFreak for the breaking news.

Source link