MPA, Amazon & Apple Win Injunction To Shut Down Two Pirate IPTV Services

A coalition of Hollywood studios plus Amazon, Netflix, Apple, and other content owners, have won a preliminary injunction to shut down two pirate IPTV services accused of infringing their movie and TV show rights. Claims from the alleged pirate operator that the case is deficient and relies on biased and inaccurate evidence made little difference to the outcome.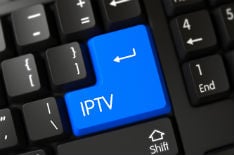 In December 2021, movie and TV giants Universal, Disney, Paramount, Warner and Columbia joined Netflix, Amazon, Apple and several other studios in a copyright infringement lawsuit against Texas resident Dwayne Anthony Johnson.
The plaintiffs alleged that Johnson (and Does 1-20) are the brains behind pirate IPTV providers AllAccessTV (AATV) and Quality Restreams. The latest in a growing line of copyright cases against similar platforms, the complaint alleged that the services supply infringing movies and TV shows via their IPTV and VOD platforms, breaching the studios' rights.
The claim for damages (statutory $150,000 per work) was accompanied by a request for an injunction to shut the platforms down.

The rest of this article can be read on TorrentFreak.com

Source link