News

Popular hip-hop mixtape site and app Spinrilla has sued the RIAA for sending false takedown notices. The company believes that the music group relies on text searches, without properly checking if the content is infringing. The mixtape site informs the court that these faulty notices harm its goodwill and reputation, so is requesting damages in return.
Operating a mixtape site is not without risk. By definition, mixes include multiple sound recordings which are all protected by copyright.
Popular hip-hop mixtape site and app Spinrilla, which has millions of users, is well aware of these risks. To stay on the safe side, it has implemented various anti-piracy measures.
For example, users of the service have to be vetted before they can upload anything. All their uploads are also scanned for possible infringements using Audible Magic's content recognition service. On top of that, repeat infringers have their accounts terminated after two strikes.
These resource-intensive precautions are not unwarranted. The mixtape site was previously sued by several major records labels – a case that remains ongoing – and it's not looking for further problems.
This means that the site is processing numerous takedown notices from music companies, many of which are represented by the RIAA. While Spinrilla doesn't object to legitimate takedowns, it recently noticed that not all of the RIAA's notices are accurate.
Spinrilla
Spinrilla believes that the RIAA is sending takedown requests based on text searches, which results in inaccurate takedown notices. To stop this from happening, the site has filed a lawsuit at a federal court in Georgia, accusing the RIAA of sending false DMCA takedowns.
"Defendant is sending DMCA takedown notices some of which materially misrepresent that audio files uploaded by certain Spinrilla's users infringe sound recordings owned by RIAA's members," Spinrilla writes.
These inaccurate takedown requests harm the goodwill and reputation of the mixtape site, Spinrilla notes. It's a waste of resources and can also result in user accounts being terminated without good cause.
"False takedown notices needlessly waste Spinrilla's time, disrupts its personnel's work and puts at risk for terminating a user as a 'repeat infringer' when in fact the user uploaded non-infringing content," Spinrilla writes.
The mixtape site argues that text-based searching can't distinguish legal from unauthorized content. Uploaders can, for example, use titles of tracks or artists that are not necessarily used in the mixes. After looking into the matter, Spinrilla notices that some of the audio that was flagged by the RIAA was not infringing.
To stop these errors from taking place the site asked the RIAA not to rely solely on text searches. The RIAA replied that this was already the case, mentioning that "human ears" reviewed the content, but the false notices apparently didn't stop.
"Despite Spinrilla's informing Defendant of the false Notices, Defendant has continued to send Notices which include allegations of infringement as to audio files that Defendant knows do not infringe any copyrights and/or constitute fair use," Spinrilla writes.
As an example, the mixtape mentions that the RIAA asked it to take down this mix, as it would infringe the copyrights for the Big Sean & Jhené Aiko track '2 Minute Warning.' According to Spinrilla, this is not the case.
"That accused audio file does not infringe the copyright in the sound file 2 Minute Warning. In fact, that audio file is a mostly empty track (approximately 6 minutes) with the last 5 seconds or so jumbled audio that is not from the copyrighted 2 Minute Warning," Spinrilla notes.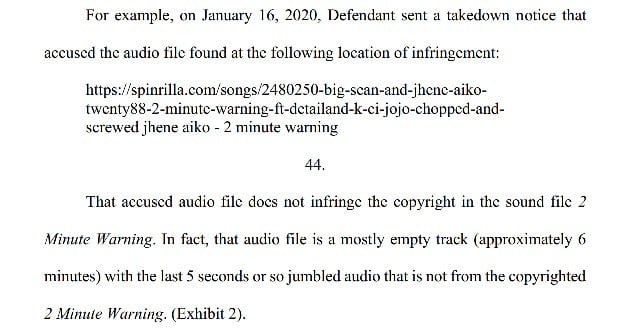 The RIAA is well aware that its practices are resulting in false positives, Spinrilla argues. As such, it is knowingly misrepresenting that the audio files are copyright infringing, which is in violation of the DMCA.
Through the lawsuit, the mixtape site hopes to obtain an injunction preventing the RIAA from "knowingly" sending false takedown notices. In addition, it asks to be compensated for the damage it has suffered thus far.
"Defendant's wrongful acts have caused, and are causing, damage to Spinrilla, which damage cannot be accurately computed, and therefore, unless this Court restrains Defendant from further making knowingly material misrepresentations, Spinrilla will suffer irreparable damage for which there is no adequate remedy at law," Spinrilla writes.
The RIAA has yet to file an answer to the complaint.
—
A copy of the complaint filed last month by Spinrilla at a U.S. District Court in Atlanta, Georgia, is available here (pdf).

Many thanks to TorrentFreak for the breaking news.

Source link