Opinion

The second season of the sitcom "Sick of It" will soon air on the British TV-channel Sky One. This prompted co-writer and actor Karl Pilkington to share an episode of the first season with over a million Facebook fans. A kind gesture, but since the video was indirectly sourced from a pirate group, perhaps not one that everyone will appreciate.
UK entertainment giant Sky is widely known for taking a hard line on everything piracy related.
In recent years the company has chased vendors of pirate subscriptions and hardware, both in and outside of court.
These efforts are meant to signal to the public that piracy, streaming piracy in particular, will not be tolerated. However, this message has apparently not hit home with one of the company's own stars, Karl Pilkington.
Pilkington is an actor, comedian, and presenter who is widely known for "An Idiot Abroad," the Sky 1 travel series with a comedic twist. He also worked with Sky on the documentary "The Moaning of Life" and more recently he ventured into the sitcom arena with the series "Sick of It", again at Sky.
Sick of It is about to premiere its second season and to give his 1.5+ million fans on Facebook something to get in the mood, Pilkington recently decided to share an episode of the show from last year.
That usually isn't a problem. However, Sky doesn't share the show for free and only offers it on-demand but that didn't prove to be too much of a hurdle for the show's co-writer, who found a freely accessible streaming copy on Vimeo.
"For anyone who hasn't seen it yet. Here's an episode. Series 2 soon," Pilkington wrote.
This clearly isn't an official release. The tags on the video reveal that this copy was sourced from a 'scene' group, PLUTONiUM in this case, and reuploaded to Vimeo by someone named Gary. The same person also shared a copy of the first episode through the same account.
This means that Pilkington is effectively sharing a pirated copy of his own show with over a million people. And since Sky holds at least some of the rights, that's not supposed to happen.
The 'mistake' didn't go unnoticed. Commenters on Facebook highlighted that it was a pirate release and the same was pointed out on Reddit, where many appreciated the unusual move.
The question is, of course, whether this is indeed a mistake or some kind of PR stunt. Giving over a million people a free teaser may draw in some extra eyeballs and if that's picked up by the news, it means even more exposure.
However, when we look closer at Pilkington's previous engagement on Facebook we started to notice a trend. Apparently, he's keeping a close eye on the comments. When someone said that she wasn't familiar with Sick of It, but would like to watch it, Pilkington kindly shared a link.
And that wasn't the first time either. The show's co-writer has been doing this for weeks, sharing the same link to everyone who shows interest. In particular, those who don't have access to it.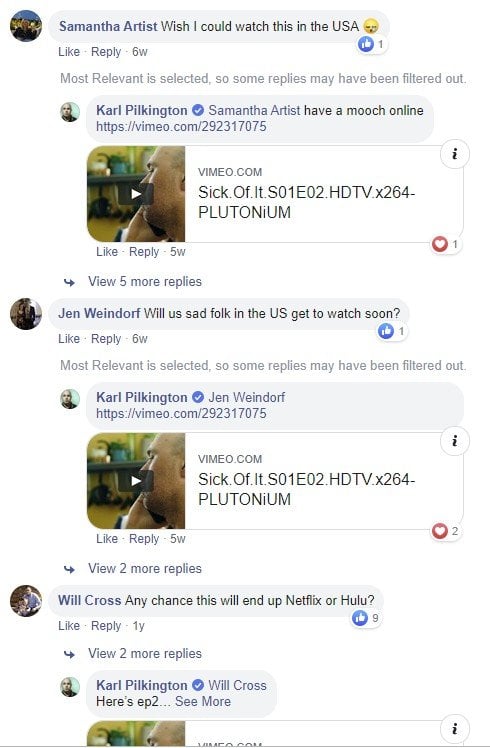 To us, it appears that Pilkington means no harm and simply wants to get people to see his show. That makes sense. As a creator, you want people to enjoy what you've made. The fact that he's sharing a pirated copy may not have even entered his mind.
Whether Sky will like this is another question of course. At the time of writing all links are still online, but it wouldn't be a massive surprise if they are soon taken down. Technically, Pilkington is now a repeat infringer so he could even lose his Facebook account.
Unless he takes action before Sky does, of course.

Many thanks to TorrentFreak for the breaking news.

Source link