The movie industry's "Piracy it's a crime" video is, without doubt, the most iconic anti-piracy PSA ever made. The video became the inspiration for countless memes and satire. The once-official piracyisacrime.com campaign site shut down years ago but, this week, the domain started linking to the IT Crowd parody.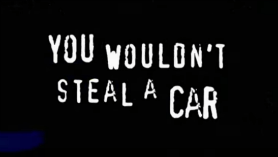 Over the past decades, the entertainment industries have tried out numerous anti-piracy PSAs.
One of the most iconic videos is without doubt the "You Wouldn't Steal a Car" campaign, which has proven to be a fertile breeding ground for memes and satire.
The video was the result of a collaboration between the Motion Picture Association, the Federation Against Copyright Theft, and the Intellectual Property Office of Singapore. It first launched during the summer of 2004 after which it appeared on DVDs and in movie theaters.
"A new cinema trailer also launches on 12th July, supporting the campaign message 'piracy is a crime'," one of the press releases read at the time.
From a 2004 press release
The video was backed by the Piracyisacrime.com website. This was also the place where the public was asked to report piracy.
We're using the past tense because the official campaign website was retired more than a decade ago. Initially, the domain name was forwarded to copyrightaware.co.uk, another anti-piracy initiative, but at some point, it was no longer renewed.
This resulted in some interesting new homes for the domain, including a site that has something to do with Japanese nurses. Then, all of a sudden, someone decided to put it up for sale. Earlier this week, Hugedomains listed the piracyisacrime.com domain for $2,695.

That is a lot of money for a domain name without content. However, it would make sense for an anti-piracy group to regain control. Interestingly, however, most attention was generated by "the other side."
In the r/Piracy subreddit, 'Mintyjad' asked whether they should buy the domain and point it to a Rickroll. This suggestion triggered a lot of responses but, before the topic could result in any action, someone else bought it.
While we don't know who paid nearly $3,000 for the domain, the buyer doesn't appear to come from the anti-piracy camp.
Instead of rickrolling visitors, Piracyisacrime.com now redirects to the legendary parody of the PSA from the IT Crowd TV series. This means that after nearly two decades of memes and parodies, we have come full circle.

Many thanks to TorrentFreak for the breaking news.

Source link