Breaking

Infamous pirate release group Hive-CM8 is accusing rival group TOPKEK of putting people in danger by leaving watermarks and tracers in its recent releases. If true, this could spell trouble for those involved. Screener leaks are considered to be major breaches by the movie industry, which are severe enough to get the FBI involved.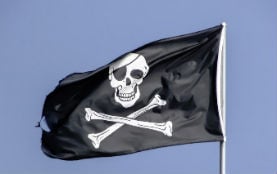 People who operate or even get involved with pirate release groups take major risks. Those who release screeners of unreleased movies up the ante further still.
The movie screeners that are sent out to film insiders to be considered for various awards come with all sorts of protection mechanisms. These include visible and invisible watermarks as well as other tracers that can lead directly to the source.
These extensive protections are supposed to deter people from leaking screeners. This is important, as some of the films have yet to air in theaters. For example, 'Color Out of Space' is widely available on pirate sites at the moment, but will officially premiere in the US this Friday.
Apart from the deterrence factor, the watermarks also help to track down people involved in the leaks. They allow Hollywood to pinpoint the source and call in the feds who have helped to bring several people to justice.
Over the past decade, Hive-CM8 has been a constant factor. Rival group EVO has also shared several screeners in the last three years but most others stay away from the practice.
However, a few days ago another group joined in. Out of nowhere, TOPKEK released six screeners in the span of a few hours, including '1917,' and the aforementioned 'Color Out of Space.'
While the pirate audience was happy with this new material, it appears that Hive-CM8 didn't appreciate the form in which it was offered. In the release notes of its most recent screener leak of the film "Just Mercy," the group accuses TOPKEK of putting people at risk by leaving watermarks and tracers in its releases.
"Bet you all seen the topkek scr flood 2 days ago, we have nothing to do with them btw. We are not happy that they got out like this, with watermarks and tracers still in it. careless and unprofessional it was, its a shame for the community [sic]," Hive-CM8 writes.
"Whoever owned that bunch will regret sharing this for the rest of his life. Dont you think this will not get back to you, wish you luck. Dont trust the wrong people," the group adds in its notes.
Verifying Hive-CM8's claims independently would require a specific form of technical expertise mostly unavailable to the public. If they're true, however, we can expect some legal action to follow soon.
After all, Hollywood sees screener leaks as one as the worst threats to their business. Not only because of the potential revenue losses but also because the screener leaks originate from within the industry.
If Hollywood, with help from law enforcement, can pinpoint a source and perhaps even a release group, they certainly won't hesitate.
Hive-CM8, meanwhile, is attempting to play nice with Hollywood. The group has been criticized for holding back releases for too long, as they want to give films time to recoup their investments on the silver screen.
Not everyone appreciates that but the release group stands by the decision taken after it received heavy criticism for its early leaks in 2015.
"Some might say us delaying some titles is good, some will think this is stupid. Either way, but we think its more fair like this for everyone under the circumstances.
"We watch the gross in relation to budget so that the movie has a fair chance in cinemas and at the same time make some people happy at home who are not able to visit the cinema [sic]," Hive-CM8 adds.
Although the group appears to be sincere in its motivations, the major movie studios won't hesitate to bring them down if they get the chance.
That said, it seems that the group is good at covering its tracks, as it's been releasing screeners for a decade without getting busted. That would have been impossible if the group didn't have its security in order.

Many thanks to TorrentFreak for the breaking news.

Source link