Late August the piracy Scene was thrown into turmoil when law enforcement raids took place all around Europe. With few hopes of a significant recovery any time soon, in the space of a few minutes yesterday veteran cracking group CPY released four games previously protected by Denuvo. For many pirates, this is the positive signal they'd been waiting for.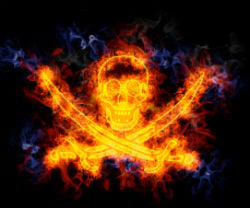 Late August, many of the world's top-tier piracy groups collectively known as The Scene were thrown into chaos when law enforcement operations were carried out around Europe.
The main targets were members of the movie and TV show piracy groups known as SPARKS, GECKOS, DRONES, ROVERS and SPRINTER, whose members were indicted in the US for allegedly participating in a conspiracy to release thousands of titles online. However, the action was much more widespread, targeting other groups around Europe and as Scene members went back underground, a historic drop in releases was observed.
Scene Releases of New Videogames Fell Almost to Zero
As the image below shows, releases of new games by The Scene flatlined just after the end-August raids leaving many pirates wondering when things would recover – or even if.
Game and Ebook releases before and after the raids
Since then, small releases and repacks of older titles have been appearing online but nothing particularly obvious to suggest that a significant recovery of The Scene was coming anytime soon. That changed in a matter of hours yesterday with a flurry of releases from veteran games cracking group CPY, all of which featured games with the formidable Denuvo anti-piracy protection defeated.
CPY (aka Conspiracy) Breaks The Deadlock
Established back in 1999, CPY is one of the best-known games cracking groups. Following their release of the Denuvo-protected Ace Combat 7: Skies Unknown back in February 2019, the veterans went on a short release run before returning for the last time 325 days ago with Heavy Rain.
However, over the course of just a few hours yesterday, CPY placed itself back on the map by releasing four new titles within minutes of each other, all of which were previously protected by the effective (but much hated) Denuvo anti-tamper technology.
The Releases – All Previously Protected by Denuvo
Judging by the reception on pirate sites and various discussion forums, action game 'Death Stranding' is probably the highlight of the batch released by Denuvo a few hours ago. As is tradition with such releases, the game came with an NFO (information) file, partially shown below:
Interestingly, the NFO file also comes with what appears to be some kind of puzzle or clue. The jury is out on what it means exactly but we include it here for the curious: "A little gift to our 1803 friends: 0x141627D3D JMP around!"
In popularity terms (at least among pirates) next up is the action-adventure game Mafia: Definitive Edition. This 2020 release is a remake of the 2002 game Mafia and was again protected by Denuvo. No secret messages or clues in this NFO but nevertheless this cracked version has been anticipated by pirates after the original title was released just last month by developer Hangar 13.
Catering to football fans, the third most popular release thus far is eFootball PES 2021. Released last month, the title was also protected by Denuvo but after CPY's work, is now available without restrictions or, indeed, a price tag.
Rounding up the quartet is A Total War Saga: Troy, which is perhaps a curious choice when considering that the game was picked up by millions of players for free following its launch in the summer. Nevertheless, it soon reverted to its regular pricing structure, with Denuvo included for good measure.
Given that CPY is clearly on a roll, there were probably few problems releasing it along with the others.
Despite Excitement Among Fans, Denuvo is Still Doing Its Job
This quartet of releases has game-starved pirates pretty excited, especially since all four feature the defeat of Denuvo's anti-piracy technology. However, if we take Denuvo's position, that it aims to protect games during the first few days and weeks of their official releases, the technology is still doing its job.
Death Stranding was released officially on July 14, 2020 and cracked/released on October 14, 2020, giving the title three whole months worth of protection. Mafia: Definitive Edition and A Total War Saga: Troy faired identically slightly worse, having been released on August 13, 2020 and their protections removed/bypassed two months later.
eFootball PES 2021, on the other hand, was released on September 15, 2020, so with a cracked release landing during the past few hours, it only 'survived' piracy-free for just short of a month.
The big question now is whether other groups will return with the same vigor as CPY in the days and weeks to come.

Many thanks to TorrentFreak for the breaking news.

Source link