Traffic to pirate sites is dropping significantly in Italy, new data suggest. This trend is in part the result of local site blocking efforts. While piracy is becoming less of an issue, Italian music industry group FIMI signals problems of another order. This includes the challenge to convert free YouTube and Spotify users into paying consumers.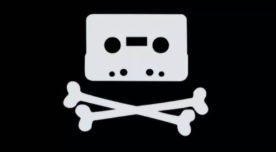 Pirate site blocking has proven to be a rather effective copyright enforcement tool in many countries.
Italy, one of the European frontrunners, has taken a particularly active approach. In recent years, thousands of domain names have been added to the nation's pirate blocklist, following complaints from a wide range of copyright holders.
It is not just the numbers that set Italy apart, the blocking mechanism itself is unique as well. To have a website blocked, rightsholders can ask the local telecoms watchdog Agcom to issue an order, without need for a trial.
Instead of dealing with blockades in court, Agcom has the power to grant injunctions without judicial overview, which it does on a regular basis. Over the past year alone, 385 blocking orders were issued by the telecoms watchdog.
The site blocking efforts have obviously decreased traffic to the targeted sites, but according to data released by Agcom, the number of visits to all pirate sites combined has dropped too. As shown below, the number of mobile and desktop visits to pirate sites decreased more than a third (35%) between 2018 and 2019.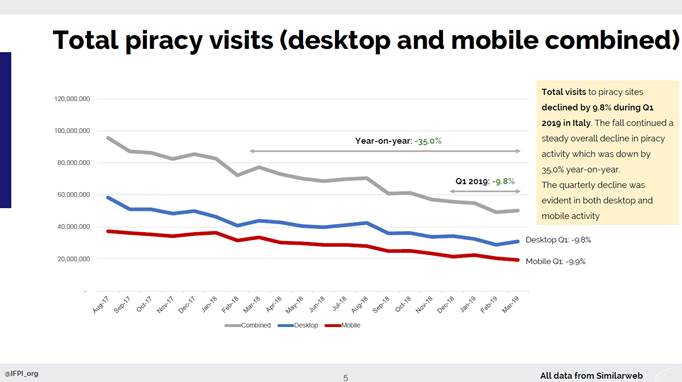 The downward traffic trend is visible across all types of piracy sites but, logically, the traffic drop for the blocked sites is most pronounced. The graph below shows that the number of visitors to blocked sites tank swiftly after a new blocking order is issued. 
For example, in January 2019 2conv.com (blue line) and flv2mp3.by (green line) were blocked, and soon after, the visitor numbers went down. 
Agcom and various entertainment industry groups are happy with the overall impact. They believe that, after many years, they finally managed to get a grip on piracy.
TorrentFreak spoke to Enzo Mazza, chief at Italian music industry group FIMI, who believes that a combination of site blocking and educational campaigns has paid off.
"The first major blockade targeted the Pirate Bay in 2008 and the case was confirmed by the Supreme Court. In terms of market impact, site blocking has proven to be effective in conjunction with the increase of the legal offer," Mazza says.
"The Agcom regulation played a great role, also in terms of education and awareness. Most of the blocked sites have a landing page, created by Agcom and shown by the ISPs, which explains visitors how to reach legal sites."
While this is positive news for the Italian music industry, it doesn't mean that all is well. Mazza informs us that there are bigger problems than piracy. Ironically, these problems are linked to the legal alternatives many pirates have switched to. 
"The main issue here is not piracy. It's how to convert people from free YouTube and Spotify accounts to premium services," Mazza says."Italy is a country where the 'culture of free' is radicated and it's not easy to drag people into a subscription model."
Nearly 90% of Italian music consumers use YouTube to stream music, which is a problem for the industry. While these people are enjoying music legally, record labels would like to see these people converted into paying customers.
"Conversion rates are still below the global average and this is a major challenge for the industry. We are urging in particular Spotify to do more in terms of promotional campaigns in order to engage new premium customers," Mazza says. 
So, while the website blocking efforts have helped to bring piracy rates down, this isn't immedially resulting in much more revenue.
The next step is to convert these same people into paying subscribers. However, this should be done witch caution, as cutting the free options could simply drive people back to pirate sites. 

Many thanks to TorrentFreak for the breaking news.

Source link