Home > Lawsuits > Apps and Sites >

When pirate sites agree to settle lawsuits, these cases tend to disappear into the night. However, when stream-linking site 66Stage agreed to pay Disney $500K in 2010 for linking to pirated movies on Megavideo and other sites, the movie company expected to get paid. A decade on, it appears that Disney has a very long memory.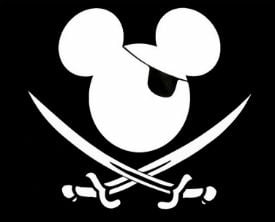 Every year, movie and TV show companies, broadcasters, and other rightsholders take legal action against pirate sites.
This action can take various forms, from threats that result in private settlement agreements to full-blown lawsuits.
In some cases, litigation can drag on for years, with a tendency to prove both costly and damaging to those who lose the fight. In most cases, these are the operators of unlicensed sites who initially put up a fight before being overwhelmed with costs and subsequent damages awards.
Another option, when it's available, is to settle cases with the plaintiffs relatively early on. This is what happened in a lawsuit filed by Disney Enterprises and Universal City Studios against indexing site 66Stage.com back in 2008.
66Stage was a One-Stop-Shop For Piracy
Filed in a California court, the complaint described 66Stage as a "for-profit 'one-stop-shop'" for infringing copies of the plaintiffs' movies including Finding Nemo, Mulan, Pirates of the Caribbean: At World's End and several others.
"Defendants own and operate the website www.66stage.com…whose purpose is to promote, facilitate, aid and abet, and profit from the infringement of Plaintiffs' copyrighted works," the complaint alleged.
"Specifically, Defendants post, organize, search for, identify collect and index links to infringing material that is available on third-party websites (including, for example, the third party website Megavideo.com)."
As this image from the Wayback Machine's archives shows, 66Stage acted as a front-end to hosting sites like Megavideo, which was later dismantled as part of the Megaupload raids early 2012.
Disney and Universal identified Nasri Faical as the person behind 66Stage, noting that he was a citizen of Morocco who at the time was living in Japan. According to the amended complaint, his site offered thousands of links to hundreds of motion pictures released in 2008 and 2009, with new content being added all the time.
As a result, the plaintiffs alleged contributory copyright infringement and inducement of copyright infringement, plus aiding and abetting copyright infringement under the Copyright Act of Japan. The docket reveals that the case went through the motions until August 2010, at which point it was revealed that the parties had agreed to a consent judgment to settle the case.
$500,000 Settlement Agreement
That agreement didn't come cheap. Faical agreed to a global injunction preventing him from running 66Stage or any similar site, being involved in any activity that infringed the plaintiffs' rights, and/or participating in any marketing or advertising program designed to drive traffic or generate revenue from infringement.
With that, Faical agreed to pay Disney and Universal $500,000 in damages for copyright infringement. He also agreed to be bound by the orders of any other court in the world "with competent jurisdiction" to enforce the consent judgment.
Whether this significant debt is still on the mind of Faical is unknown. However, if carefully waiting it out was indeed on his agenda, this week the former site operator would've been holding his breath. According to the California courts website, money judgments have an expiry date – 10 years to be precise – and the deadline was this week.
A Decade On and Disney's Time Was Running Out
"Money judgments automatically expire (run out) after 10 years. To prevent this from happening, you as the judgment creditor must file a request for renewal of the judgment with the court BEFORE the 10 years run out. If the judgment is not renewed, it will not be enforceable any longer and you will not be able to get your money," it reads.
Given that the consent judgment was signed off by the judge on August 5, 2010, Faical would not have owed Disney a penny if ten years were allowed to pass without the company taking further action. As it happens, however, it Disney's lawyers were absolutely on the ball.
This week the company filed the necessary paperwork to keep the matter and the substantial debt alive, just a day before Disney would've had to wave goodbye to $500K and Faical would've been a 'free' man again.
"There have been no payments received from any of the Defendants towards the Judgment, through the judgment enforcement process or otherwise. Accordingly, the total amount due to Defendants under the renewed judgment is $500,000.00," the renewal of money judgment reads.
Like Dumbo, it seems, Disney never forgets.
The original amended complaint, judgment and renewal can be found here (1,2,3 pdf)

Many thanks to TorrentFreak for the breaking news.

Source link