Home > Lawsuits > Copyright Trolls >

In 2020, law firms acting for copyright trolls secured permission to compel several Swedish ISPs to hand over the personal details of customers behind more than 46,200 IP addresses. The major player was Njord Law, a firm currently facing serious fraud charges in Denmark.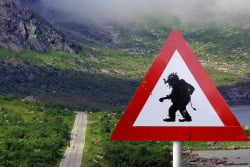 There are many tools available to copyright holders to enforce their rights but so-called 'copyright-trolling' is the most controversial.
Designed not to prevent piracy but to turn it into a revenue stream, copyright-troll schemes are big business in the United States, Europe and Canada, with perhaps millions of alleged pirates having been targeted to date.
All follow a similar pattern – obtain the personal details behind an IP address and then pressure Internet bill payers into handing over cash.
Targeting of Swedish Internet Users Continues
Over the past several years, Swedish ISP Bahnhof has waged a one-company battle against copyright trolls. Where rivals such as Telia, Com Hem and Telenor continually put themselves in a position where they are required to hand over subscriber data, Bahnhof has refused to give in to these "extortion" demands.
This stance as a staunch protector of its customers' privacy rights means that Bahnhof has handed over the personal details of precisely zero subscribers. Its rivals, on the other hand, can claim no such thing.
In its latest annual study, Bahnhof reveals that during 2020, the courts granted copyright trolls permission to obtain the personal details of around 46,260 Internet subscribers from several ISPs.
"The IP addresses belong to four operators," Bahnhof explains.
"Telia has provided information about the users of 34,189 IP addresses, Com Hem has shared customer information linked to 9,531 IP addresses, the Telenor Group has contributed customer information related to 1,896 IP addresses.
"Other operators have provided names and postal addresses for users of 645 IP addresses. Bahnhof has not disclosed any such information."
Headline Figure Down But Problem Remains
The first wave of these lawsuits in Sweden started in 2016 and ever since copyright trolls have been returning to court seeking the legal ammunition required to pull in settlements.
Over the years the number of lawsuits demanding information from ISPs has increased rapidly. In 2016, just 13 applications were filed, a figure that more than doubled to 27 in 2017. Just a year later and 72 applications found themselves at the Patent and Market Court, with almost double (140) filed in 2019. In 2020 the number dropped slightly to 127.
In 2019, 60,368 IP addresses were targeted in total, a 15% increase when compared to the 52,341 IP addresses listed in 2018. In 2020, the number of IP addresses featured in lawsuits was down to around 46,260.
When combined with previous years, the total number of IP addresses targeted since 2016 now exceeds 190,490, with each one likely to have developed into a threatening letter demanding money in exchange for peace and quiet.
Familiar Names, Familiar Strategy
While there are huge numbers of Internet subscribers being targeted in Sweden, a very small number of law firms represent the numerous rightsholders seeking settlements. Stockholm law firm Next Advokater KB claims 36 of the applications but the overwhelming majority hail from Njord Law, a company that has been making headlines for all of the wrong reasons lately.
As reported last week, Njord Law and one of its partners are facing criminal prosecution in neighboring Denmark for defrauding Danish citizens out of 7.5 million kroner (US$1.22 million) in relation to a similar settlement scheme active since 2017. While Njord Law vigorously deny the charges, questions over the validity of its operations in Sweden could soon be up for scrutiny too.
Whether the Patent and Market Court in Stockholm will now see fit to begin questioning future requests for subscriber data remains to be seen. But whatever happens, Bahnhof seems the most obvious choice of ISP in Sweden for consumers who prefer not to have law firms on their back demanding money.
Bahnhof's 2020 Copyright-Trolling report can be found here

Many thanks to TorrentFreak for the breaking news.

Source link