Home > Lawsuits > Copyright Trolls >

After accusing thousands of Danes of illegally sharing movies using BitTorrent, Danish law firm Njord Law approached many for cash settlements despite their clients not holding the copyrights to the content in question. A partner in the firm and the firm itself have now been charged with serious fraud offenses dating back to April 2017.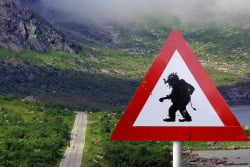 So-called 'copyright-trolling' schemes targeting alleged users of BitTorrent have generated millions of dollars in settlements worldwide over the past 15 years.
In many cases, controversy is rarely far behind, with questions regularly raised over the legitimacy of the operations and those who help facilitate them. Over in Denmark, the situation has now reached boiling point, with a major law firm facing the wrath of the authorities.
Njord Law and Its Copyright Troll Partners
While 'copyright trolling' is often used to describe a company that targets alleged pirates en masse in order to extract cash settlements, the term is perhaps most accurately applied to those companies who seek payment for content to which they hold no rights. In Denmark, this can be perfectly applied to the partnerships between Copyright Management Services (CMS), MIRCOM, and prominent law firm Njord Law.
The former pair have connections to German-based BitTorrent tracking company MaverickEye and notorious international trolling operation Guardaley. They hired Njord Law to conduct their legal work in Denmark but with one major omission – neither company hold the copyrights to the works they are seeking to enforce. As a result, beginning last April hundreds of cases were kicked out of court.
Of course, taking a case to court is the last resort for copyright trolls, who prefer to extract easy cash payments from alleged pirates instead. In Denmark the position is no different and as a result, thousands of people settled out of court, parting with roughly 7,500 kroner (around US$1,200) each to make potential lawsuits disappear. That strategy is now coming home to roost.
Njord Law and Partner Charged With Fraud
With pressure mounting due to the number of cases being kicked out of court, last December there were signs that the authorities in Denmark were taking a keen interest in the copyright-trolling scheme sweeping the country. That has now been confirmed with a report from Berlingske (paywall) which reveals that Njord Law and partner lawyer Jeppe Brogaard Clausen have been charged by the authorities with serious fraud offenses.
Somewhat ironically, the prosecution of Clausen and his company is being carried out by the State Prosecutor for Serious Economic Crime (SØIK), the same entity that is actively pursuing cases against BitTorrent tracker operators in the country.
According to the SØIK indictment, as reviewed by Berlingske, Clausen and Njord Law (as the legal entity behind his work) are charged with serious fraud offenses totaling 7.5 million kroner (US$1.22 million) in connection with their work carried out on behalf of CMS and MIRCOM.
It's alleged that between April 2017 and December 2020, Clausen "obtained for himself or others unjustified gain" by having "caused, corroborated or exploited an error" in cases pursued against a sample 1,000 citizens. They were told that were required to pay cash settlements to CMS (UK) and MIRCOM (Cyprus) for copyright infringement. The authorities say that these demands were fraudulent.
It's further alleged that the court fees demanded were much higher than those actually paid while people were also charged for legal work unrelated to their specific cases. The charges are reportedly so serious that they could carry a prison sentence of up to eight years for the defendants.
Njord Law Rejects The Charges
Predictably, Njord Law sees things rather differently. Describing the allegations as "exaggerated and far-out", Njord Law managing partner Lars Lokdam says that he is "absolutely sure" that his company has done nothing wrong. While that will be determined by the courts in due course, at least 3,000 additional and similar lawsuits against alleged pirates are still pending.
The big question now is whether the investigation into Njord Law will also encompass the architects of the underlying copyright-trolling operation – MICROM, CMS, and their international business partners. MIRCOM was recently labeled a classic copyright-troll outfit in an EU legal opinion, with a recommendation that entities like it should not gain access to Internet subscriber information.

Many thanks to TorrentFreak for the breaking news.

Source link