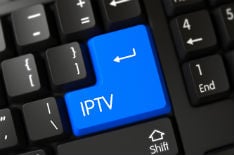 Qatar-based TV network beIN has been heavily embroiled in perhaps the most controversial TV piracy scandal in recent years. Saudi-backed pirate satellite provider beoutQ threatened to decimate beIN's business and the ensuing battle had far reaching consequences.
The conflict was part of a diplomatic crisis between Qatar and other Arab countries and resulted in beIN being prevented from doing business in Saudi Arabia. BeoutQ was happy to continue broadcasting beIN's content, however. BeoutQ's satellite operations reportedly went offline in August 2019 under assorted diplomatic pressures, but that didn't stop the transmission of beIN content via its rival's set-top boxes.
Last week it was reported that progress has been made between the parties, with Saudi Arabia set to lift the ban on beIN along with a promise to close pirate websites. But as the 'hydra' concept of piracy dictates, when one head is cut off several others appear – if they don't exist already, which they always do.
beIN Reveals Major Piracy Threats
This week, beIN Media Group and subsidiary Miramax submitted their recommendations to the Office of the United States Trade Representative for the purposes of the USTR's 2021 Out-of-Cycle Review of Notorious Markets. There is predictably no mention of beoutQ but the companies are keen for the US government to take action against a number of pirate IPTV operations.
The companies begin by highlighting that the "most egregious" pirates in its report are making their content – and US content – available to the masses illegally, something which negatively affects companies in the United States including Netflix, Disney, Fox, HBO, Paramount Pictures, Sony Pictures, Universal Pictures, and Warner Bros. One pirate IPTV provider in particular appears to be a major concern.
Dream TV
In its submission, beIN provides an overview of how the pirate IPTV ecosystem works, from the pirates who capture the first copies of live TV, movies and TV shows to an underlying infrastructure including re-streamers, resellers, and device distributors. BeIN believes that the original sources of beIN channels are relatively limited but has identified one in particular.
"Dream TV is a well-known and widely viewed Moroccan-based pirate IPTV service provider. On its website, Dream TV presents itself as the largest provider of IPTV international channels on the market for individuals and resellers, offering 2,300 channels of different qualities: SD, HD, FHD and H265," beIN notes.
"Through its investigations, beIN has found that Dream TV is likely to be responsible for a substantial proportion of pirated beIN channels streamed in the pirate IPTV ecosystem. These are all pirate streams showing pirated beIN channels, as well as Miramax content and channels belonging to other international and US rights holders, such as: ABC News, Cartoon Network, CNN, FOX, and NBC."
According to beIN, Dream TV also offers a program that allows people to sign up, purchase and resell Dream TV and as such requests that Dream TV is designated as a 'notorious market' by the USTR.
Many Other Pirate IPTV Providers Pose a Threat
BeIN continues by providing details of many other pirate IPTV providers. These include Mediastar and Forever IPTV, which are reportedly owned and operated by Chaloos, a company based in Erbil, Iraq.
"[Forever IPTV] is a wholesaler of pirate IPTV channels that offers to supply pirated channels to IPTV resellers. Forever IPTV provides access to thousands of on-demand movies and television shows, including content owned by Miramax. For example, the following US channels are available on Forever IPTV: ABC News, CBS, CNN, Discovery, Disney, ESPN, FOX, HBO, and MTV," beIN writes.
Chaloos was added to the Notorious Markets list in 2020 but, according to beIN, the situation hasn't improve so the company should remain on the list for 2021. However, the problems with Iraq-based entities are even broader.
Earthlink is Iraq's largest Internet service provider but also has an interesting sideline. According to beIN, Earthlink operates pirate IPTV service Shabakaty, which is believed to have 500,000 subscribers. The channels on offer include those offered by Disney, HBO and Sky, with the service also offering content on-demand from the likes of Netflix, Paramount, Sony, Universal and Warner. That earned the IPTV service a spot on the MPA's submission too.
Pirate provider Family Box is also cited as a threat, offering around 7,000 IPTV channels with global coverage. iStar is another, offering its own devices that come with a 12-month subscription to a pirate app branded 'Online TV'. Both of these entities are reported as operating from Erbil, Iraq, with iStar-branded receivers sold across both Europe and the United States. iStar is currently being sued by DISH in the US.
Other providers listed by beIN include Redline/Red IPTV (Turkey), Renbow TV/Cobra IPTV, Spider (Jordan), Starsat, Apollo IPTV (UAE), and Volka IPTV (Tunisia/Morocco/Algeria).
The System Holding it All Together
An interesting section in the beIN submission details the software platform Xtream-UI. Readers will recall that a similar software service, Xtream-Codes, was shut down in 2019 following a massive law enforcement operation.
BeIN says that to a large extent the worldwide pirate IPTV infrastructure is facilitated by 'IPTV panels' such as Xtream-UI, which is said to operate from Extreme-ui.org. This appears to be an error in the submission since that domain does not exist. The correct domain is easy to find though and the oversight is unlikely to hinder the USTR's investigations.
BeIN stops short of highlighting Xtream-UI as a 'notorious market' but does blame the tool for being a central component of IPTV-based infringement in the Middle East and worldwide.
The beIN and Miramax submission can be found here (pdf)

Many thanks to TorrentFreak for the breaking news.

Source link