Apple needs to do more to prevent unauthorized apps that deliver music to users in unlicensed ways appearing on its App Store. That's the demand from the Recording Industry Association of Japan and several other industry groups in a communication sent to Apple recently.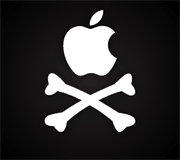 The popularity of smartphones and their accompanying software ecosystems have given rise to large volumes of applications that appear to infringe copyright.
With its side-loading ability, Android is by far the most affected platform, with apps easily installable on millions of devices granting access to unlicensed content, including music, movies, and TV shows.
However, even when apps are pre-vetted for availability on Google Play or Apple's App Store, some rogue tools slip through the net. This situation is unacceptable to most rightsholders but given the manner in which music is often consumed these days, recording labels tend to be the most dissatisfied.
This has prompted a large coalition of music-focused industry groups, headed up by the Recording Industry Association of Japan (RIAJ), to write to Apple demanding change.
In a joint request the RIAJ, the Japan Association of Music Enterprises, the Music Publishers Association of Japan, and the Federation of Music Producers Japan, to name just four, seek assurances from the US-based tech giant that it will "tighten up" its processes to prevent "unauthorized" streaming apps ending up on its platform.
According to the industry groups, "unauthorized" means any app that allows a user to stream music in "ways that fall beyond the intention of the music's copyright and neighboring right holders."
The groups don't offer any specifics but it seems extremely likely that given the pressure on sites and tools that rip, source, or otherwise cull content from YouTube, these are prime candidates for Apple's attention.
"The recent torrent of Unauthorized Music Apps flooding the industry is enabling users to listen to music for free, resulting in these app operators to gain unfair profits through advertising sales," the groups write.
"These operators are not only committing copyright infringement, but also stealing profit from the music's rightful copyright owners and legitimate service providers—profit that they would have otherwise gained through CD sales, downloads, and streaming."
That CD sales are placed at the head of the list is unsurprising. Despite much of the world ditching plastic discs in favor of digital streaming, Japan still has a love affair with the format, albeit one that's on the wane.
According to figures published by the RIAJ, 88.65 million CDs were produced in Japan during 2018, down 13 percent on the previous year. That's compared to 52 million units sold across the entire US during 2018. In 2014, around 85% of music sales in Japan came from CDs. Around 54% of consumption now comes from streaming.
The RIAJ acknowledges that Apple removes "unlicensed apps" from its App Store in response to takedown requests. However, removed apps sometimes reappear on the platform after being disguised as new tools. As a result, the RIAJ wants to be involved in the app approval process, to ensure that rogue software doesn't appear on the App Store.
Calling for Apple to "strengthen its review process", the RIAJ says the US company should begin "contacting and working with RIAJ for apps suspected to be Unauthorized Music Apps" while expediting takedowns for tools that violate Apple's own terms and conditions.
"The music industry associations and music streaming service providers will continue to discuss and engage in efforts to tighten control over Unauthorized Music Apps, strive to build an honest and fair market, and demand speedy amendment of the Copyright Act that regulates leeching sites and apps," the RIAJ concludes.

Many thanks to TorrentFreak for the breaking news.

Source link